There used to be a phone booth in the middle of Kamaishi Stadium. Nodoka Kikuchi estimates it was somewhere halfway there. She would know. She was the last person to use it. That was at 2:45 pm on March 11, 2011. She was 15, just graduating from high school, and was calling her parents to pick her up. A minute later, the great earthquake occurred. "It started shaking from side to side," she says. "It was terrible, I was holding the box and my friend outside was hugging a gate, because it was the only way we could get up." Behind them, the school football ground opened and the water began to spray from the ground "as a source".
Like all children at Kamaishi High, and the nearby Unosumai School as well, Nodoka knew exactly what to do. Everyone was to meet at the evacuation point in the school yard so the teachers could count the count. But as she ran there, she heard a teacher shout, "We don't have time to tell! We must run away!" And so they did, all 570 of them, in the mountains behind the school.
They stopped at an old man's house half a mile up the hill. The teachers were talking about what to do next when the aftershocks began. Rocks and boulders fell upon them from the mountain, so they ran again, holding hands now, large children paired with small children, 300 meters ahead, to the parking lot of a nursery. The road was narrow and they had to squeeze alongside the cars coming from the coast. "There were about 600 people here, I was in the middle and I could see that the people in the back had no room to enter, so I was screaming:" Making room! Run! Run! Please run!
• Matches, tables and results
• Best attempt and point scorers
• stadium guide
• Referee Guide
• Our latest live reports minute by minute
• Sign up for The Breakdown, our free rugby union email newsletter
Team Guides
Group A: Ireland, Japan, Russia, Samoa, Scotland
Group B: Canada, Italy, Namibia, New Zealand, South Africa
Group C: Argentina, England, France, Tonga, USA
Group D: Australia, Fiji, Georgia, Uruguay, Wales
Photo: Christophe Ena / AP
When they reached the parking lot, the teachers began another countdown. And that's when Nodoka heard what she thought was a helicopter. Only she couldn't understand why the buzzing sound seemed to come from everywhere, above and below and behind. Then she looked back.
"Tsunami means wave, but it's not a wave, I mean, that's not what I saw. What I saw was like a great wall moving toward us. Everyone fell silent." Then someone shouted & # 39; tsunami! & # 39; And I realized what it was. "They wanted to run higher, straight into the forests, but the ground was shaking now and they were worried that the mountains would fall, just as the sea had risen. they took them safely to the highway and began the long walk inland, two students died, one friend of Nodoka stayed home sick and one was taken in by their parents, but all who stayed with the teachers survived.
Nodoka Kikuchi Photo: Andy Bull / The Guardian
The tsunami killed more than 1,000 people in Kamaishi, a city of just 35,000 people. More than 160 of the deaths occurred at the Unosumai District Disaster Control Center, a three-minute walk from Nodoka School. Many of the dead had participated in a tsunami drill the week before, but it was so cold that instead of climbing the mountain they were supposed to go to, they stayed indoors at the Center. When the tsunami arrived, that's what they did again. The flood was 11m deep.
In the following years, they would call what happened at Nodoka School "the miracle of Kamaishi". But she and her friends never liked that name. "A miracle," says his colleague Miyuki Kanie, "would have saved everyone." Moreover, she adds, it was not an act of God that led them through it. The children lived because their teachers made the right decisions. And the townspeople carved this lesson in stone at the new Tsunami memorial. "Just run! Run up! Don't worry about the others. Save yourself first. And tell future generations that a tsunami has reached that point and that those who survived were the ones who fled."
The "Kamaishi Miracle" has become a famous story, which has been repeated over and over in the media here. They even made a movie about it. It's one of those tales we tell each other in help, because it allows us to believe in hope and mercy where there is none. This is similar to how we talk about the new rugby field they built on the site of these two former schools, the Kamaishi Recovery Memorial Stadium. Where we come from, in the coming days, the two World Cup games that will be played here – Fiji faces Uruguay on Wednesday – look like a powerful symbol of Kamaishi's reconstruction. But this is not our story to tell.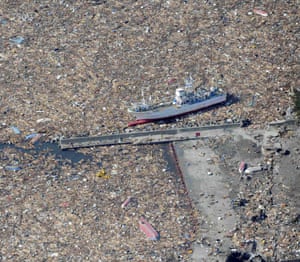 A fishing boat rests surrounded by debris in Kamaishi after the 2011 tsunami. Photo: Yomiuri Shimbun / AFP / Getty Images
"For most seniors, the World Cup coming here is very significant," says Miyuki, who moved here last March. "The local team was very strong a long time ago, when they won the championship seven years in a row, so rugby is especially popular with seniors. But to tell the truth, young people are not so interested. "It is a fact, she says, that the recovery has changed faster here than elsewhere, because the World Cup has stimulated it. Only about 20 local families remain in temporary accommodation and they will be housed by the end of the year. "So I don't think many people were against the idea of ​​the World Cup," she says, "because of that and because they knew how important rugby was to Kamaishi. It gave people new energy. But I know some kids have complicated feelings about it. "
Nodoka is one of them. "When I heard that the stadium was being built, I was shocked," she says, "because it seemed like they were destroying my memories. I had such complicated feelings, thinking about our school and our lives, it was a great loss. Over time, however, as she watched the works, that changed. "As I watched the stadium rise, I began to digest all my feelings, sadness, guilt, nostalgia. And I feel that they have settled now. Everything has passed. It's just part of my story of who I am. And I feel that if they hadn't destroyed the school to create this new stadium, I would never have gone through it. "
.