In the 101st minute of the 35th week, still playing after midnight and until summer in the hottest city in Europe, the two best things that can happen in football happened at the same time: an attacker who had hit the goal saved a shot from goalkeeper who had gone ahead, stopping the man he had beaten to beat him back.
It was that kind of station.
"I never imagined that," said Sevilla's Lucas Ocampos, trying not to laugh after putting on his gloves and denying Eibar's Marko Dimitrovic. Nobody really imagined any of this. Never mind to imagine: it was hard enough to remember: where it all started, who had been there. Fran Escribá, anyone? David Gallego? Looking back on 2019-2020, a feeling is repeated: wait, what was it this season?
At some point in September, Barcelona striker Luis Suárez said "we have a long and difficult season ahead of us", but even he couldn't imagine how long and how difficult – and not just for Barça, although the boy had too much packed. Just not the title, not this time.
When the league ended, it had been a year since Real Madrid conceded seven against Atlético Madrid in New York and everyone lost their heads. "Keep calm," Zinedine Zidane had said in the midst of the growing storm, "let's see good things." As always, he was right somehow: 12 months later, they won the title.
Zinedine Zidane led Real Madrid to the title in style. Photo: Eurasia Sport Images / Getty Images
Just as important, although not all were good, we saw many things, all right. Not much of the three most expensive signings of the season, João Félix, Antoine Griezmann and Eden Hazard. And still less of Luka Jovic, the fourth.
Things like endless bloody delays at VAR, more penalties than ever, many coaches – 11 fired during the campaign, four more finished – the youngest boy to score a La Liga goal and the oldest man to score three of them. In just 19 minutes too. All of this spanned an 11-month season.
Sign up for The Recap, our weekly email of editors' choices.
In the fall, the classic was postponed to December, and later Eibar-Real Sociedad. In mid-March, when the coronavirus was installed, everything was 2019-20 becoming two distinct seasons, together and not always well. When football returned after confinement, nothing was the same, as if it belonged to a different season, at a different time, to a different world. Eleven matches went on for five weeks, no one got into stadiums, birdsong following the ball.
The League had become a place where 170,000 watched Leganés-Madrid on the PlayStation and closer to 170 watched the game at the stadium, a bag of candy replaced by a bag of tissues, hand washing, gloves and a face mask. The television colored in the stands and applied a canned soundtrack, where a premature and happy technician with triggers made Real Sociedad "fans" shout "gooool" with a shot that was wide. Miles better than "technology" were cardboard cutouts and even former players "cheering" on Villarreal. And the only place where a real fan could watch a real game was on the 14th floor of the building next door. Meanwhile, the men in the VAR room gave the distinct impression that they were not watching.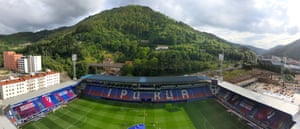 Ipurua, in all its glory. Photo: Sid Lowe
This was the type of season when a game was finally stopped – not because of racist or homophobic chants, but because of anti-fascists. And in which the Spanish Super Cup "for equality" was disputed in Saudi Arabia, won neither by the champions nor by the cup winners, with the fans remembered not to take pork products – even if they are Vacuum packed. A season so strange that even Javier Tebas and Luis Rubiales stopped briefly fighting, with their heads hit by the sports minister.
At an eight-hour secret meeting at Viana Palace, convened there in silence, with their cell phones confiscated, they agreed to ensure that this was the type of station that would be completed, at least. They thought they had succeeded too: when the first division was played, there was relief and pride too: the protocols had worked. They did that. The following night, the final round of the second division could not be completed because of an outbreak of coronavirus in the Fuenlabrada team, leaving everyone in limbo, going into chaos and accusations. One player was taken to the hospital, the rest were trapped in the hotel and there were 28 positive points – a timely reminder of how serious this is.
The second division is not the only unfinished competition. There is still Europe to come and to the best Copa del Rey in memory provided the perfect climax only for a first final between Real Sociedad and Athletic be postponed, clubs agree to wait as long as necessary for their fans to join them. The first division, however, is finished – and that doesn't always seem right.
Nor the result, and who knows how it would have ended if the season hadn't been so strange. On the day that general elections were held – although this does not decrease much – AS announced the end of the "end of the two-part system" with six teams at two points at the top. Spain arrived at week 10 with six different leaders: Madrid, Sevilla, Atlético, Atlético, Barcelona and Granada. In the end, however, Madrid and Barça were well above the rest.
Winners of eight of the last 11 leagues, Barcelona "won" 2019-2020 part one, but not part two, a seven-point spin after the block, costing them a title that many took for granted. They were at the top, if not so good, when they fired Ernesto Valverde. The coach's ability to contain a crisis had passed from a troubled club and perhaps he was better with that. Quique Setién, raised among the Liencres cows, admitted that he had never dealt with anything like this and could not save them from himself.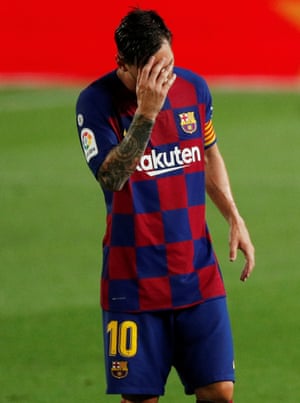 Leo Messi looks discouraged after Barcelona's defeat at home against Osasuna. Photo: Albert Gea / Reuters
Real Madrid did not start exactly well and, while now forgotten, Zidane may have followed suit. Defeated 3-0 in Paris, defeated in Palma, Madrid traveled to Istanbul with the coach on the edge. "If you love him, you win," demanded Marca, which they did. Stabilized, but still under pressure, a first classic victory at the Bernabéu prepared them very well, only for them to lose immediately to Real Betis and get stuck behind Barcelona.
The restart was convenient for Madrid: when the league turned into something like a Champions League – the Coronavirus League, Sergio Ramos called it – they won. Ten consecutive wins took them there, culminating in a victory over Villarreal on the training ground that had become their home. On the last day, with the work completed and Gareth Bale on vacation, they drew 2-2 in Leganés – the city hardest hit by Covid-19 and the terrain where 18 shirts were in silent tribute.
Fighting from the start, Javier Aguirre's arrival brought hope to Leganés, but the winter brought matches, an already limited team that lost Yousef En-Nesyri and Martin Braithwaite. A measure of the impact: when they went to Pizjuán and Camp Nou, the Seville and Barcelona teams had more Leganés goals in their teams than Leganés. They fought to the end, but with the last kick, Oscar's shot went to the empty stands, bringing hope.
If you thought the emergency hiring rule didn't make sense when Braithwaite left, in mid-June Celta was allowed to sign striker Nolito because of an injury to the … goalkeeper. His goal against Betis proved the difference between going down and staying awake. Well, that and the Oscar shot, that terrified Celta subs watched on their phones. Despite having Iago Aspas, a midfielder who was fine and with a very good team to go down, Celta was dangerously close to doing just that.
Leganés fell with Mallorca, who knew that the relegation was probably right from the start, but had resisted almost to the end. Also below was Espanyol, the club where Abelardo explained his presence by saying "maybe I'm a masochist" and the sporting director got three managers before taking over. Which really changed his view of a pitiful team that sadly joined Monday 26 years later.
At the other end, Atlético and Sevilla joined Madrid in the Champions League. Real Sociedad, the most pleasant team until the blockade and, strangely, one of the worst after, lost the grand prize, but at least won a place in the Europa League together with Villarreal and Granada. "We are not yet aware of what we have done," said Granada manager Diego Martínez. A newly promoted team with the division's third smallest budget, they arrived in Europe for the first time.
Real Sociedad's David Zurutuza is thrown into the air by his teammates after the match against Atletico Madrid. Photograph: Denis Doyle / Getty Images
This meant that Valencia and Getafe were left out – which was no more than Valencia deserved, having undone all their good work, open a division with your fans and claimed that a manager should be a mere "employee", firing two of them before putting the delegate in charge again.
On the other hand, maybe it was less than what Getafe deserved. On the last day, they were defeated by a 99-minute goal, missing a penalty and having three goals discarded, leaving them with nothing. Well, not at all. There are always the prizes they really want. How about starting with something serious before it gets silly?
Most unexpected hero
Getafe president Ángel Torres, who refused to take his team to Milan, although there is history to be made, forcing UEFA's hand. It may not be an exaggeration to say that he saved many lives.
Kindest player
Pablo De Blassis extended his contract with Eibar for three weeks to end the season – and gave the money to …